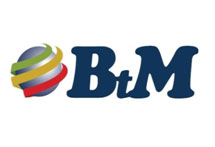 BtM - Branding to Market
O projecto BtM – Branding to Market visa a promoção e consolidação da marca "Engineering and Tooling from Portugal", enquanto marca colectiva, distintiva e diferenciadora da Indústria de Engineering & Tooling a nível nacional e internacional, fomentando a competitividade e reforço do seu posicionamento em mercados internacionais.
Este projecto funciona como efeito de alavanca e apresenta um alinhamento absoluto com os projectos complementares Engineering & Tooling from Portugal que preconiza a intervenção promocional desta Indústria através da identificação de novas oportunidades de negócio, e com o Projecto DiMARKETS que acompanha as tendências de evolução de novos mercados, geográficos e sectoriais (Market Intelligence).
Assim, este projecto assume vital importância para esta EEC - Estratégia de Eficiência Colectiva, preconizando acções específicas que contribuem para a afirmação e o reconhecimento internacional da Marca "Engineering & Tooling from Portugal", bem como, por potenciar a capacidade de atractividade de novas competências e de investimento estratégico (Conhecimento eTecnologias), no seio desta Indústria.
Esta iniciativa pretende desenvolver um conjunto de actividades, que apresentam os seguintes objectivos:
 A consolidação da notoriedade nacional e internacional da Indústria de "Engineering & Tooling" nacional;

Diferenciação e valorização da oferta nacional junto dos seus principais clientes e concorrentes internacionais;

Apoiar a competitividade, o marketing e a promoção internacional das empresas e do Sector;

Aumentar as vendas e exportações nacionais;

Promover a entrada do Sector "Engineering & Tooling" em novas áreas ou nichos de mercado;

Apoiar a sustentabilidade dos membros do Pólo e do Sector.